Creating an Expenses by Vendor Detail report on a regular basis can help you to see where your company is spending money. It is important to know where the money is being spent so that you can find ways to spend less of it (and increase your overall bottom line).
Using a report for a sample QuickBooks company, let's look at a few things that this report can help point out for you:
1. Can we save by using an alternative payment?  If you look at Bayshore CalOil Service, you will find that spending was significantly higher in the first three quarters, before the credit card was used for purchases.  Perhaps our sample company, Rock Castle Construction, ran this report on a quarterly basis and considered discounts offered by Bayshore's credit card.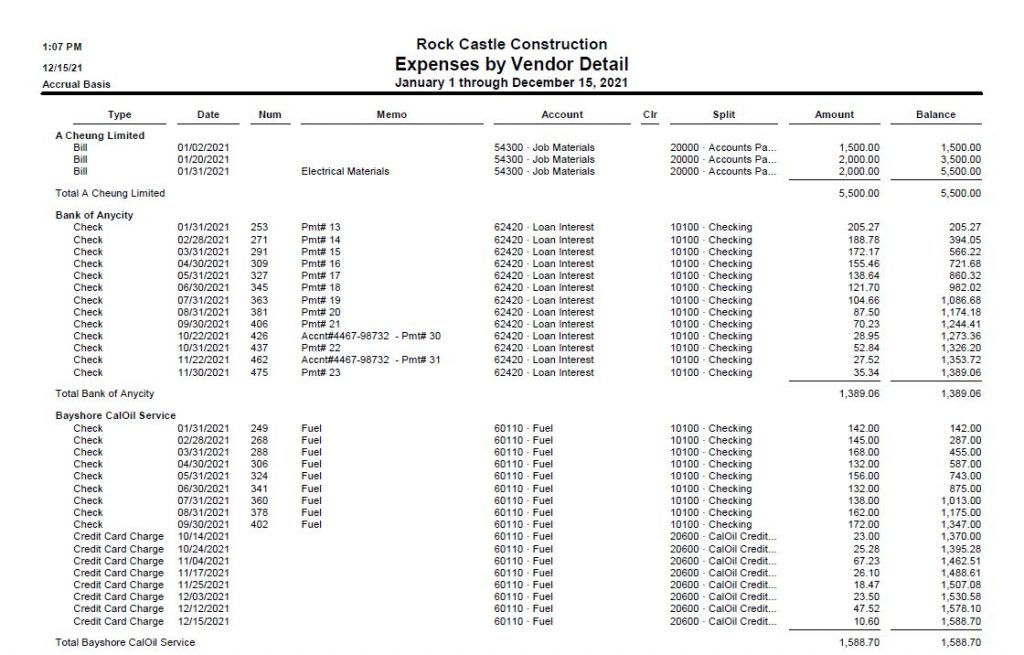 2. Can we save by purchasing equipment rather than renting?  Look at Hopkins Construction Rentals.  In December our company, Rock Castle Construction, spent over $1000 on Equipment Rental.  If these charges are all for a lift and we are going to be needing a lift on a regular basis from now on, we may look into purchasing a lift.  We must be careful, however, to consider other expenses that come with owning a lift.  Transporting the lift to job sites will require a trailer.  The lift will require maintenance, and special insurance may be required as well.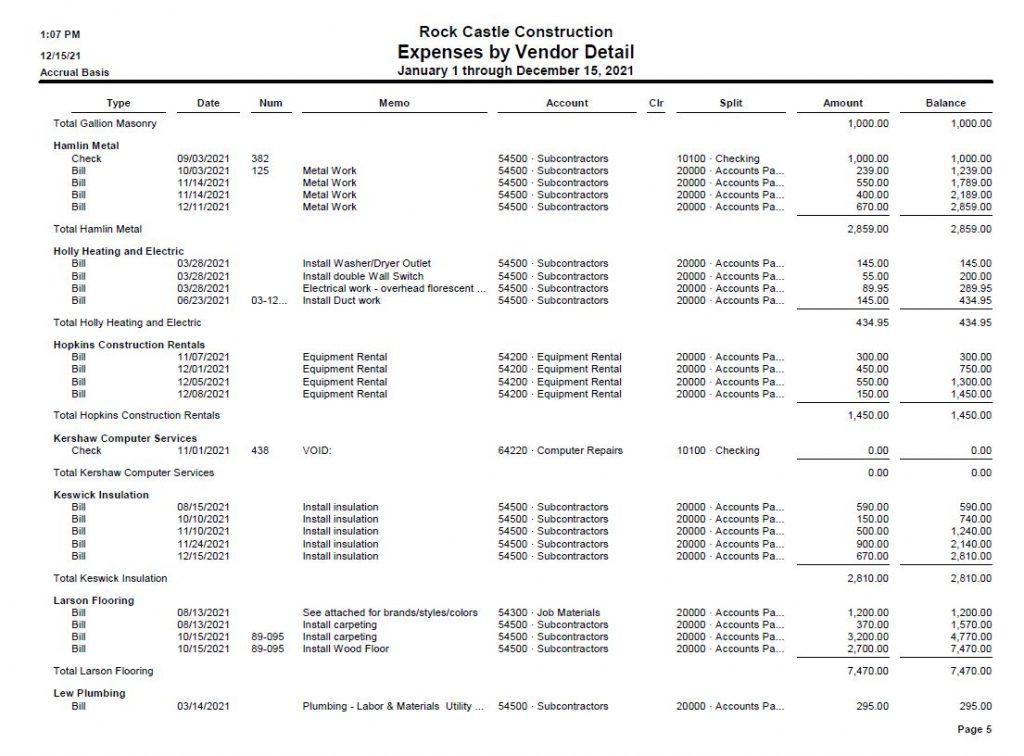 3. Can we save by negotiating discounts?  Using the Expense by Vendor Summary report, you can easily see that your company has spent over $10,000 with each of the following vendors this year:  McClain Appliances ($13,013.69), Patton Hardware Supplies ($22,562.98), Sloan Roofing ($13,252.00), Thomas Kitchen & Bath ($17,143.79), and Timberloft Lumber ($22,478.23).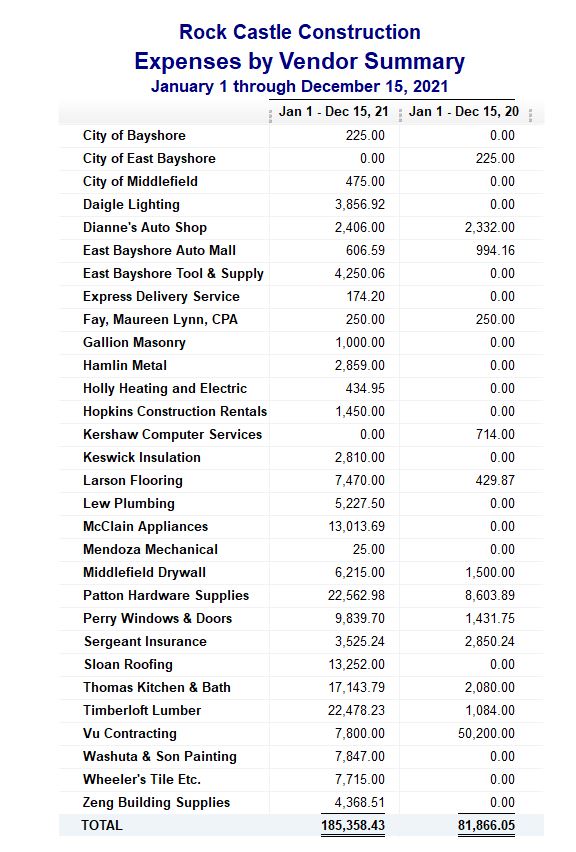 A few other companies that have recently become vendors may be eligible for this group if the current usage is an indicator of future use:  Daigle Lighting, Larson Flooring, Lew Plumbing, Middlefield Drywall, Perry Windows & Doors, Washuta & Son Painting, and Wheeler's Tile Etc.  
Discounts can be negotiated in many ways: discounts per $ amount purchased per month, discounts for paying net 10 or net 15, discounts for ordering in quantity, and discounts for purchasing blocks of service rather than on an hourly basis (for services).  Some of the materials companies may have their own credit cards as well, and offer a discount for using their card to pay for purchases.  **Be careful with this and make sure that you will pay the card off in full each month, or the money you save in the discount could be outweighed by the finance charges you incur.  
Including a prior year comparison for this report can give you added backup when negotiating discounts by pointing out the increased business you have given this business over last year (where applicable).
4. Can we save by shopping around for better rates?  Our company, Rock Castle Construction, works with many subcontractors.  Assuming quality is consistent among them all, it may be beneficial to "shop" for pricing among vendors that perform the same services to see if rates are better with one over the other.  For instance, we have paid both Keswick Insulation and Vu Contracting to install insulation, or both Middlefield Drywall and Vu Contracting to install drywall.  Perhaps one or both vendors can be convinced to lower rates in order to maintain a certain level of business from your company. (Remember, we are assuming that quality is consistent among all vendors).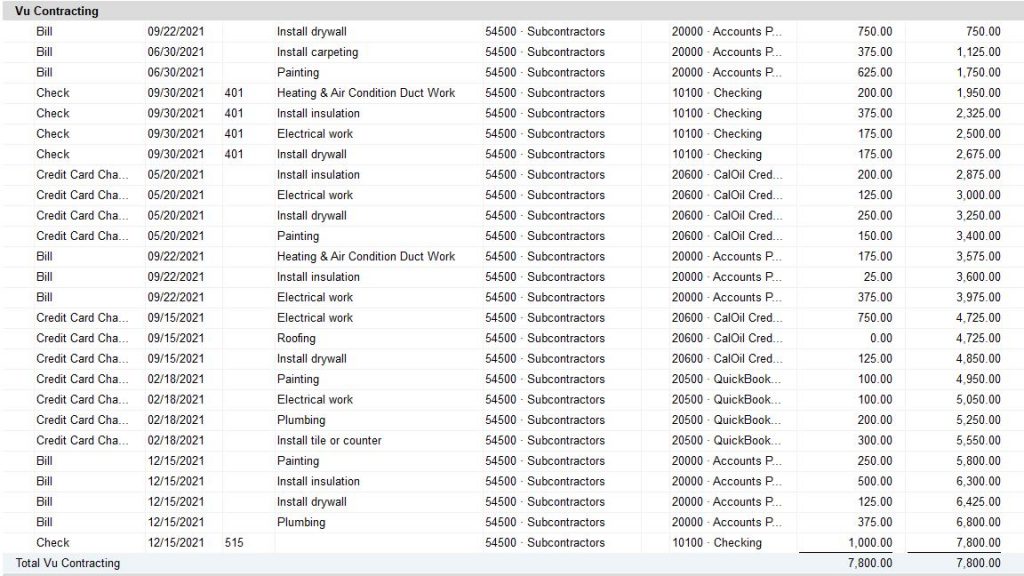 Note: AccuraBooks is a bookkeeping firm only, so please consult with your C.P.A. for verification and clarification about the contents of this article.