Working with customers and receivables is an integral part of running your business.  This is where your income actually comes in to your company, providing a cash flow to continue operations.  While there are a few reports that will help you with assessing the expected income for a period of time, the Open Invoices Report offers a more customer-detailed look at what is owed to your company.  
In order to find the Open Invoices Report, you will click on Reports>Customers and Receivables>Open Invoices. Below is a sample portion of an Open Invoices Report for our sample company, Rock Castle Construction.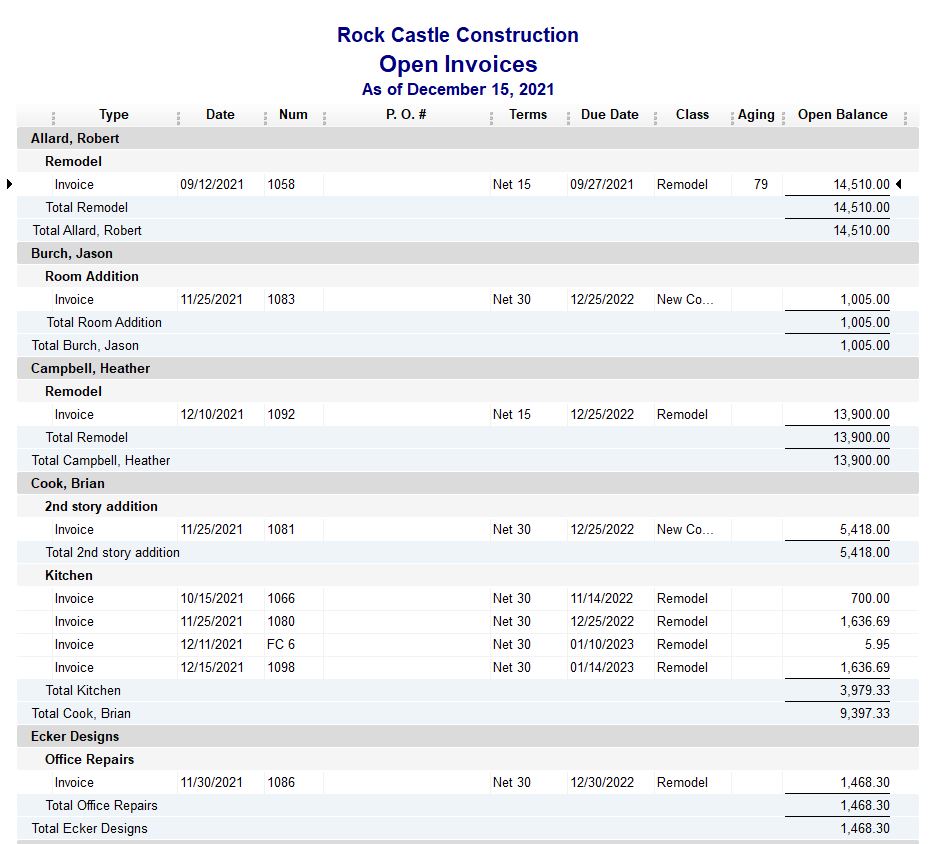 This sample picture is only a portion of the entire report, but there are some pertinent items to note:
The default status date is Today (current date) and that this can be changed to differing periods of time such as Last Month, This Fiscal Quarter, This Week, etc.  This particular report is showing all open invoices for all customers as of today.

The amounts due are listed by Customer, and further sorted by project.

Within each Customer section, the individual projects are totaled and then the entire amount due for the Customer is totaled.

There is an aging column, which will show how far overdue each invoice is (if it is overdue).

The Open Balance column shows the amount outstanding on each invoice (not the original amount of the invoice).
Why does this report matter?  First, it gives a snapshot of the total amount of money due to your company. (See picture below).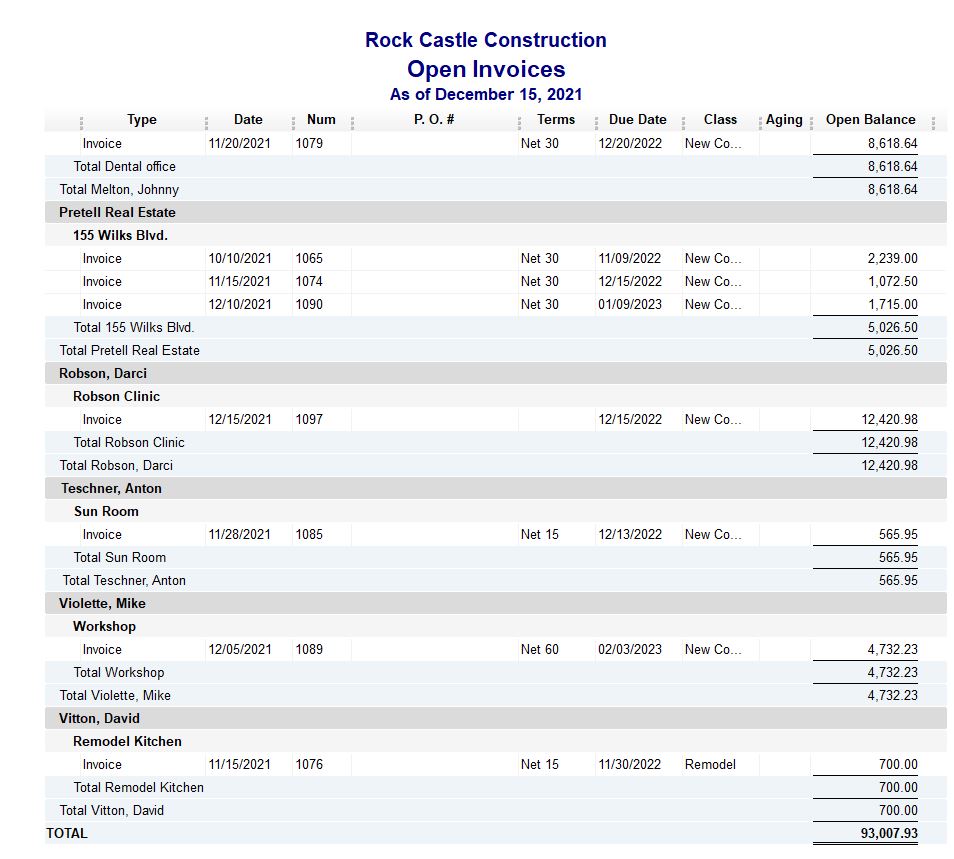 Second, it gives you a clear picture of what each Customer owes you.  This feature is extremely helpful when you need to see which Customers owe you how much, and in deciding whether or not to extend further credit to a particular Customer.  
Look back at the first picture and review the very first entry, for Allard, Robert.  Let's say Robert is an individual paying you to remodel his bathroom.  It is currently December, and this project began in September.  The total amount due is $14,510.00.  The due date is listed as 9/27/21.  
One helpful option (especially when Customers will be paying in increments), is to add an Amount column to this report.  The Amount column will show the original invoice amount, while the Open Balance will show only the amount still due on that invoice.  To add this column, you would click on Customize Report (near the top left), then scroll through the list under Columns on the first tab, and click on Amount, then click OK.  Your report should automatically add the column to the report.
The contract details are not given, but we are going to create some to help with the example.  If you double click on the Invoice line (under where it says Remodel, under Allard, Robert) you will be taken to the actual Invoice, which is pictured below.  Following the picture are some items we will be using to further explain our sample report.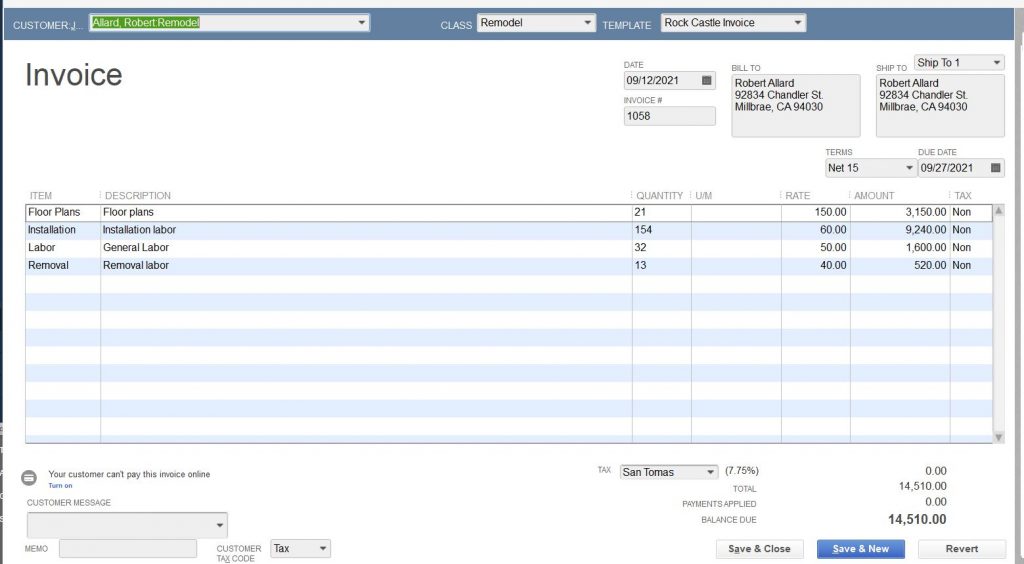 This is a construction project.  Payment on construction usually happens at intervals, whether it is periods of time, or upon completion of certain benchmarks.  A deposit is also usually required.  This invoice indicates that no payments have been applied to this invoice (and job).

Robert's contract required him to pay for the Floor Plans and Removal Labor by September 27

th

of this year, but here we are in December, and it is not paid.  

**If we had been reviewing our Open Invoices Report on at least a monthly basis, we would have found this sooner

.  

The job started on time, so we call Robert to ask about his payment of $3,670.00.  Robert says that he sent check #85374 for $3,670.00 on 9/27/21, but he will check with his bank and get back with you.  He calls back in a little while, and has verified that the check has not cleared the bank.  He has stopped payment and can pay you now with a credit card.  His Open Invoice Report will look like the picture below after you process his payment.

You can see that the original invoice amount was $14,510.00, and the remaining balance due is $10,840.00.  
Take a few minutes and run an Open Invoices report for your company.  What can you learn from this report, and how can it help you improve cash flow?  We would love to hear from you.
Note: AccuraBooks is a bookkeeping firm only, so please consult with your C.P.A. for verification and clarification about the contents of this article.